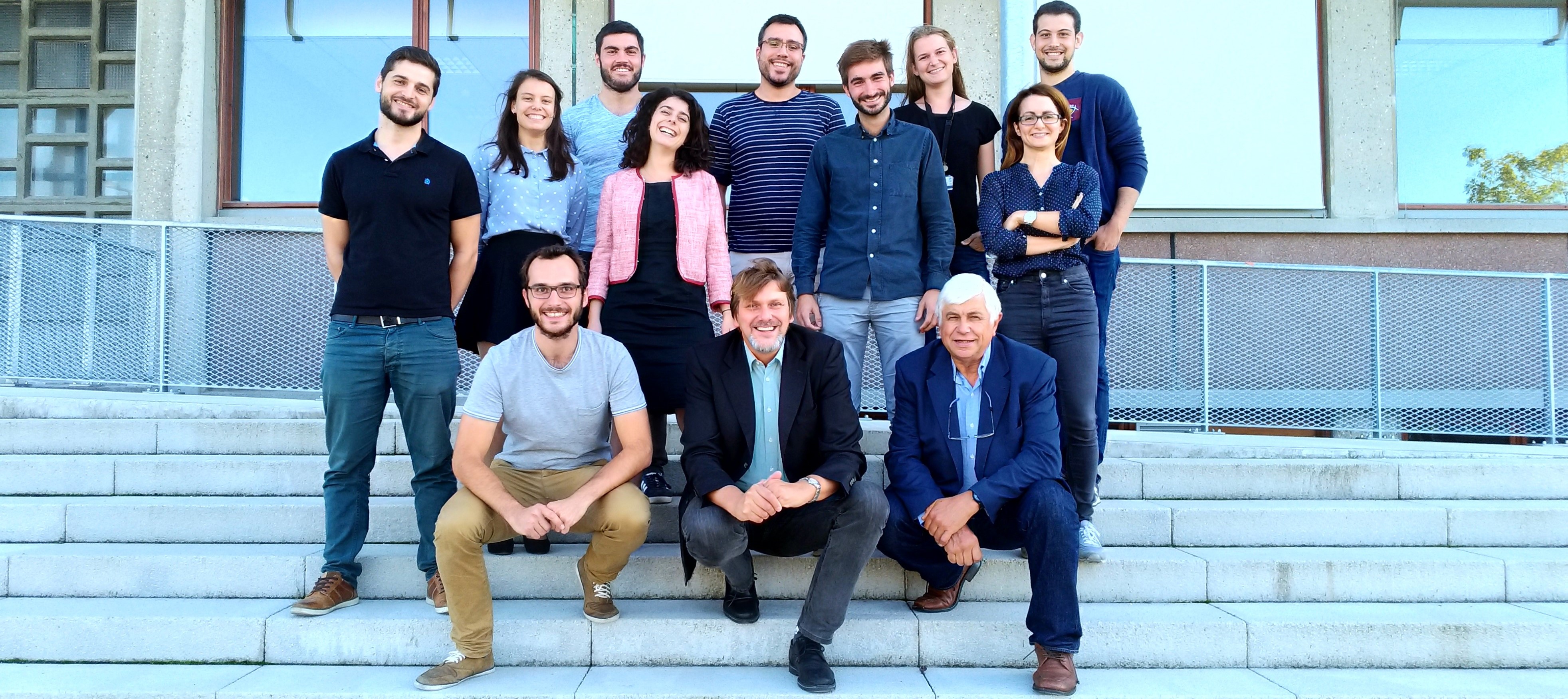 Starting from the back row, left to right: Julien Gicquiaud, Javier, Dieuwertje Schrijvers, Thibaut Maury,  Edis Glogic, Amélie Thévenot, Alice Micolier, Marc Jourdaine,  Dimitra Ioannidou, Philippe Loubet, Guido Sonnemann, Philippe Garrigues.
Based at the University of Bordeaux in the Institute of Molecular Sciences (ISM), the CyVi Group is an interdisciplinary group of scientists. ISM is a Joint Research Unit between University of Bordeaux, Bordeaux INP and CNRS.
The CyVi Group is headed by Guido Sonnemann, full-professor at the University of Bordeaux. The permanent members include Philippe Loubet, assistant professor at Bordeaux INP, and Emmanuel Mignard, CNRS researcher. The group has post-doctoral researchers, PhD students, master students and engineers. For a detailed overview of the CyVi team, please check Group Members.
The objectives of the research carried out in the CyVi Group is to apply and develop methodologies for assessing the environmental impacts and use of natural resource, in particular life cycle assessment (LCA).
The CyVi Group research is divided in two axis:
Axis 1: Development of sustainability assessment methods
Quantifying flows in the technosphere and in interaction with the environment via life cycle inventories and material flow analysis
Characterizing flows into sustainability indicators: environmental impacts (as part of life cycle impact assessment), circularity and criticality of raw materials.
Axis 2: Application of sustainability assessment methods
Supporting researchers in chemistry, materials science and recycling technologies in their sustainable innovations in the laboratory
Supporting the Nouvelle Aquitaine region's priority sectors in the ecological transition
These two axis, conducted jointly, aim to enhance sustainable engineering & chemistry, and promote the link between academic methodological developments and its application in key sectors.